So, Ravelympics begins tomorrow, and I have not decided yet what I want to work on for it.
What are Ravelympics, you may ask? Well, let me tell you. Ravelers, members of the knitting and crochet group,
Ravelry
, choose projects to work on during the 17 days of the official Winter Olympics. Projects cannot be started before the beginning of the opening ceremony and must be completed by the end of closing ceremony. Knitters and crocheters all over Ravelry are joing teams to show support for their favorite groups, causes, cities, podcasters, etc.
I have joined Team BRRS - that's Baton Rouge Red Sticks, which is the name of our knitting group here in Baton Rouge. There is also a Team Sasquatch, which is a team for fans of several podcasters. I am thinking about joining Team Sasquatch so as to not have to split my loyalties between all of the podcasts that I listen to. I would have far too much to knit if I tried to join a team for every podcaster that I listen to. I listen to a
LOT
of podcasts! So Team BRRS and Team Sasquatch would be two teams. I could probably swing two projects in those two weeks. But WHICH two projects? I'm thinking about doing
these socks
and maybe this
doggie sweater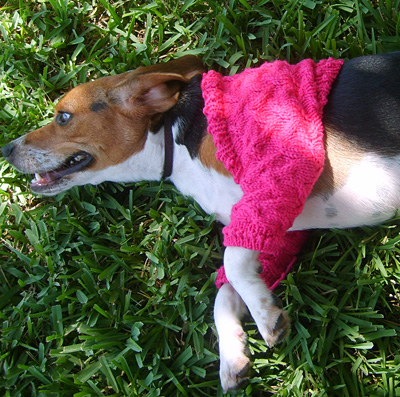 because Tank sure does hate to go out when it is cold outside. Or maybe I could do
this vest
.
After all, it uses chunky yarn and big needles. That's do-able.
But, whatevver I choose, I'll be casting something on tomorrow during the opening ceremony of the Olympics. What will you be doing?